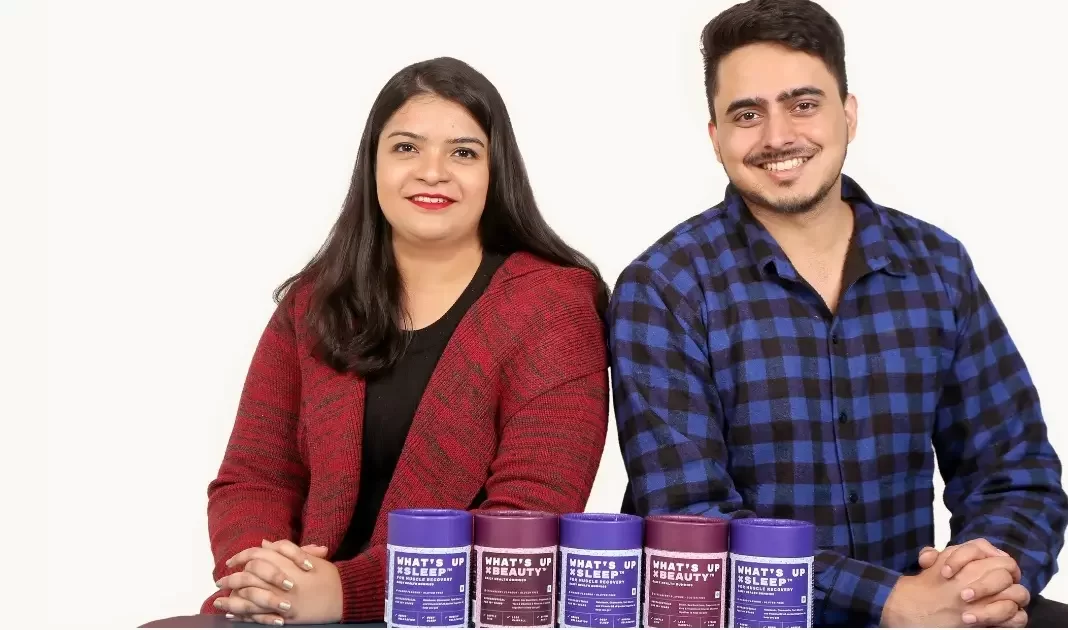 Tired of swallowing pills for your daily vitamins? What if you could get the same nutrients in a delicious gummy form? 😋
Introducing an innovative multivitamin gummy startup that would change the way you look at vitamin pills.
This story is about two young professionals who took the leap and established a wellness brand with a bootstrapped investment of 25 lakhs.
It was at a time when numerous businesses, both big & small, were collapsing that Vaibhav Makhija and Sayantani Mandal showed the courage to build their own.
The inception of an idea!💡
While living away from their families, Vaibhav and Sayantani faced a strange problem that they quickly realized others were facing as well.
Prioritising work above everything else.
Lacking the time to prepare healthy meals.
Neglecting physical activity.
Relying on unhealthy junk food for sustenance.
Eventually, the stress, lack of nutrition, and junk began to show their impact!
It's then the duo decided to turn the tables around and build a brand that aids wellness in a fun & easy way.
That is how What's Up Wellness came into being!
Their idea was to curate innovative wellness products that people can easily & quickly incorporate into their daily routines and be benefited from.
At the moment, they offer two kinds of gummies:
Beauty Gummies: enriched with a combination of multivitamins and superfoods, these gummies are great for hair, skin, and nail health.
 Sleep Gummies: mango-flavoured delicious gummies for sound sleep, nerve relaxation, and muscle recovery.
They will soon be releasing Stress Relief Gummies, Kids Gummies, and many other kinds.
Recently What's Up Wellness secured significant investment from a clutch of investors, including the likes of Deep and Mohit Bajaj, co-founders of Sirona Hygiene, and Soumya Kant, Co-Founder of Clovia.
While the investment is proof of their dedication, it is just the tip of the iceberg.
The real story lies in the hardships WUW underwent, paving its way through covid and carving a small yet substantial space for itself amongst the heavyweights of the supplement industry.
Wishing the team of What's Up Wellness Good Luck.
AN EXCITING UPDATE ARRIVED READERS

Vaibhav Makhija and Sayantani Mandal of What's Up Wellness Impressed Sharks- Shark Tank India
The big news is that on Monday night, 27th February 2023, What's Up Wellness got featured on Shark Tank India. 
Peyush Bansal seemed pretty impressed by Vaibhav Makhija and Sayantani Mandal of What's Up Wellness, stating "I have never met anyone with such a level of attention to detail in D2C as you guys." 
This remark came after the two co-founders explained their business's financial intricacies, which ultimately led to a significant investment from three prominent Sharks: Aman Gupta of boAt Lifestyle, Vineeta Singh of SUGAR Cosmetics, and Anupam Mittal of Shaadi.com. 
Although the original investment request was for 50 lakhs, the Sharks collectively offered Rs. 60 lakhs due to the founders' detailed explanation of their products, business model, and future plans.
What's Up Wellness is a wellness brand that creates vegan multivitamin gummies to fulfill nutritional deficits related to hair fall, skin problems, stress, anxiety, and sleep problems. 
These gummies: 
Are RDA compliant, 

Have no artificial colors 

Have no artificial preservatives

Are unisex in nature 

Come in delicious flavors 
The brand currently offers three types of gummies: Beauty Gummies, Sleep Gummies, and Stress-Relief Gummies.
During the pitch, the Sharks were impressed with the gummies' taste and asked for more. They also asked complex questions about the product's effectiveness, pricing, business model, and feedback. 
Vaibhav and Sayantani's detailed answers, which even included courier charges, impressed the judges. Peyush Bansal confessed that he had never seen anyone with such in-depth knowledge of Unit Economics and was 200% sure that the business would be a success.
At the end of the pitch, the co-founders were awarded a cheque of Rs. 20 lakhs each from the three Sharks. 
Congratulations to Vaibhav and Sayantani for closing the deal!